We are taking the publication of the book "Transitional Justice – The Legal Framework" by Professor Werle and Professor Vormbaum as an opportunity to launch two events on current developments in the field of Transitional Justice, especially in African states. The current challenges, the events of recent years, and future prospects will be presented from a legal perspective. We cordially invite you to participate in our events on "Transitional Justice – The Legal Framework".
In the second event, Dr Marshet Tadesse Tessema will present his work as a member of the Transitional Justice Working Group that the Ethiopian government established recently to conduct a baseline study for the state's Transitional Justice policy options. Jesse Mugero will add to this perspective reflections on Transitional Justice measures for children born as a result of conflict-related sexual violence in Uganda.
The event will take place online on 3 November at 12:15 – 14:00 CET.
Please use the following Zoom dial-in information:
Link: https://hu-berlin.zoom-x.de/j/7826652006
Meeting-ID: 782 665 2006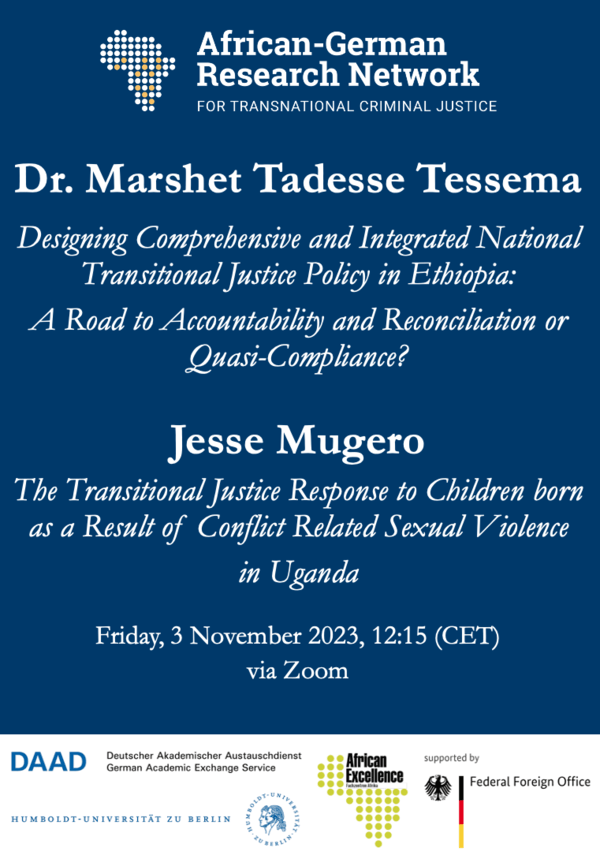 You must be logged in to rate posts.
0 Comments