Dear all
Please find an article reflecting on CERM-ESA's approach to cooperation in the German-African context that you might also find interesting with regard to your own Centre.
Abstract
This paper looks into decolonisation as a guiding principle for
North-South academic cooperation towards the United Nations
2030 Agenda on Sustainable Development adopted in 2015. The
purpose of this article is to examine the German Academic Exchange
Service (DAAD) funded African-German cooperation within the
East and South African-German Centre of Excellence for Educational
Research Methodologies and Management – CERM-ESA – and reflect
on its conditions and its contributions to decolonising higher education.
The article draws on relevant literature and reflects on
CERM-ESA activities, face-to-face discussions with CERM-ESA
faculty and students. The findings have practical implications for
North-South cooperation partnerships aimed at decolonising higher
education in Africa.
To read the full paper, please click here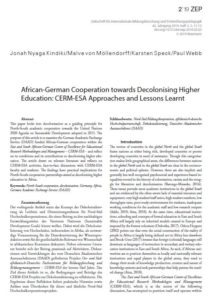 You must be logged in to rate posts.
0 Comments