for Admission and Scholarships
LLM Programme on East African Community Law and Regional Integration Law
at the Tanzanian-German Centre for Eastern African Legal Studies (TGCL)
University of Dar es Salaam School of Law
Please read and follow the instructions contained in the Call for Applications carefully prior to submitting your application.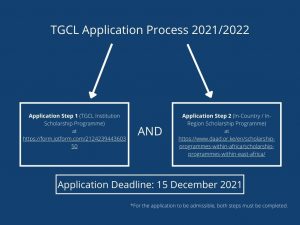 The application deadline is Wednesday 15 December 2021.


Kindly note that you MUST apply twice as all applicants will go through the same selection process to determine the allocation of the two scholarships. For the application to be admissible, both steps must be completed!

Kindly note further that, although the TGCL and the DAAD Nairobi/BMZ advertisements are separate, successful applicants will be pursuing the same course and will be overseen by TGCL Dar es Salaam.
---
You must be logged in to rate posts.
0 Comments