Le Centre d'Excellence de Gouvernance Locale en Afrique (CEGLA) a réuni encore cette année ses membres, partenaires et d'autres acteurs lors de la 4ème édition de son colloque scientifique international annuel. Les réflexions de cette année qui se sont tenues du 28 au 30 novembre 2022 à l'hôtel Gaweye à Niamey au Niger se sont articulées autour de la thématique du "Transfert des compétences et du développement local en Afrique de l'Ouest : Bilan et perspectives".
Lancé officiellement par le ministre de l'Intérieur et de la Décentralisation du Niger, Monsieur Hamadou Souley et son excellence Nicolai Hermann, Ambassadeur de la République Fédérale d'Allemagne au Niger, le recteur de l'Universités de Kehl, Monsieur le professeur Joachim BECK et son homologue de l'Université Abdou Moumouni (UAM) de Niamey, Monsieur le professeur Saïdou MAMADOU, la manifestation scientifique a eu lieu en présence de divers acteurs locaux et nationaux (étudiants, chercheurs, élus locaux, maires, présidents des conseils régionaux, députés, cadres des ministères…) et des participants et communicants internationaux venus du Burkina Faso, de la Côte d'Ivoire, du Cameroun, du Sénégal, du Mali, du Togo, de la France, de l'Allemagne…).
Durant 72h, la vingtaine de communications enregistrées ainsi que les divers ateliers organisés ont été l'occasion d'exprimer d'intéressantes contributions et discussions sur les questions relatives à la décentralisation et au transfert des compétences, les expériences de transfert de compétences, les enjeux et défis du développement local mais également la professionnalisation des agents des collectivités territoriales. Il est convenu que les réflexions et contributions les plus pertinentes issues de ces travaux seront publiés dans les actes du colloques CEGLA 2022 qui paraîtront cette année.
Ce colloque a été généreusement soutenu et rendu possible par le Deutscher Akademischer Austauschdienst (DAAD), la Gesellschaft für Internationale Zusammenarbeit (GIZ), la Direction du développement et de la coopération de la Confédération Suisse, le ministère de l'Intérieur et de la Décentralisation du Niger, le Centre de Formation en Gestion des Collectivités Territoriales (CFCGT) et l'Université Abdou Moumouni de Niamey.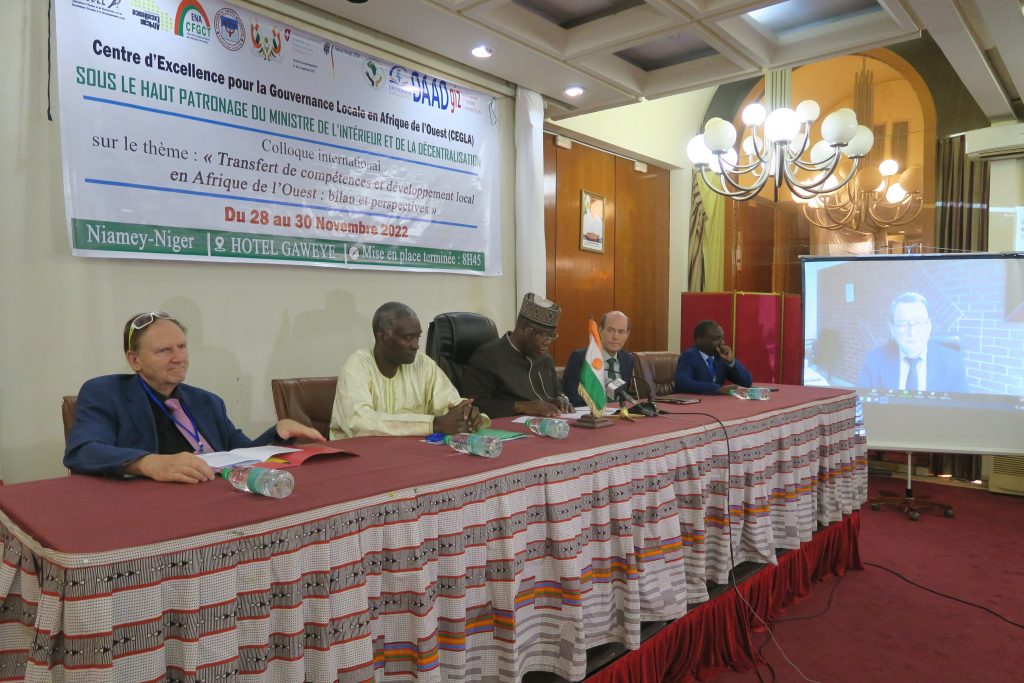 You must be logged in to rate posts.
0 Comments