Réunis autour de l'Ambassadeur de la République Fédérale d'Allemagne au Niger, son Excellence M Hermann NICOLAI, la fête de l'unité allemande a été célébrée dans le jardin du Grand Hôtel de Niamey, en ce jour Mercredi 09 novembre 2022.

En présence d'une forte délégation des différents corps diplomatiques accrédités au Niger, du Ministère des Affaires Etrangères et de la Coopération au Niger, de diverses institutions de la République et organisations nationales et internationales basées au Niger, son Excellence l'Ambassadeur M. Hermann NICOLAI a prononcé son allocution, après le chant de l'hymne national. Il a rendu hommage « au courage et à la conviction des Allemands qui ont fait chuter le mur de Berlin et mis fin à des décennies de division douloureuse et artificielle. La réunification a été un événement historique qui a entraîné joie et espoir. L'unité allemande a conduit à une liberté encore inédite sur le continent européen et dans le monde».

La République Fédérale d'Allemagne compte parmi ces amis, la République du Niger dont l'amitié est marquée par un accord étroit et une coopération fructueuse. Et cela depuis plus de 50 ans. L'histoire des excellentes relations a pratiquement commencé dès l'indépendance du Niger. Ainsi, ici comme ailleurs, l'Allemagne poursuit ses objectifs en étroite coordination avec ses partenaires au développement et avec l'ensemble de la communauté internationale, notamment l'Union Européenne. La feuille de route de la coopération allemande bilatérale au Niger est déterminée par plusieurs facteurs, notamment la concordance avec les Objectifs de Développement Durable (ODD), ainsi que le respect des principes de réguliers forums de haut niveau des experts.

La coopération allemande est axée sur deux pôles prioritaires («Décentralisation et Bonne Gouvernance» et «Sécurité Alimentaire et Agriculture Productive») et deux programmes hors pôles prioritaires («Santé Reproductive» et «Éducation Primaire»). S'y ajoutent des programmes régionaux, des projets d'aide transitoire et des projets bénéficiant d'autres financements publics.

Les projets et programmes à implémenter sont décidés conjointement entre les gouvernements des deux pays dans un processus de consultations préparatoires et de négociations concluantes dans une phase trisannuelle. Ils sont formalisés par la signature d'un accord. Cette démarche caractérise l'approche particulière de l'Allemagne, garantissant un partenariat efficace sur un pied d'égalité.

Le domaine académique n'est pas occulté dans cette longue et fructueuse coopération, où l'Allemagne développe un partenariat avec le Ministère de l'Enseignement Supérieur et de la Recherche du Niger, plusieurs programmes de formations et d'accompagnements des Etudiants et Chercheurs. Nous avons entre autres : WASCAL, HYDROGENE VERT, WAC-SRT, CEGLA, ProRuwa etc… Grâce à cette collaboration et les résultats très satisfaisants, l'Université Abdou Moumouni de Niamey est compté par les centres d'excellences du pôle éducation en Afrique qui bénéficie de l'accompagnement du BMZ et du Ministère Fédéral des Affaires Etrangères à travers la DAAD et ZEF.

L'Université est représentée durant ce dîner d'amitié par une équipe composée de 6.

Prof. Rabani ADAMOU (Représentant le Recteur de l'UAM)

Ass. Prof. INOUSSA Maman Maarouhi (Coordinateur du Programme WASCAL Niger)

M. David AGBO (Représentant le Staff Administratif)

PhD Candidate Mlle Falmata ABDOULAYE MOUSSA (Représentant les Etudiants du programme WASCAL)

MSc Armel L. OTEKPO (Représentant les Etudiants du programme WAC-SRT)

Ongoing MSc Victorien OUEDRAOGO (Représentant les Etudiants du programme HYDROGENE VERT).

République du Niger, République Fédérale d'Allemagne, Ministere des Affaires Etrangeres, WASCAL, WAC-SRT, GREEN HYDROGEN PROGRAM , DAAD, ZEF, UAM, CEGLA, ProRuwa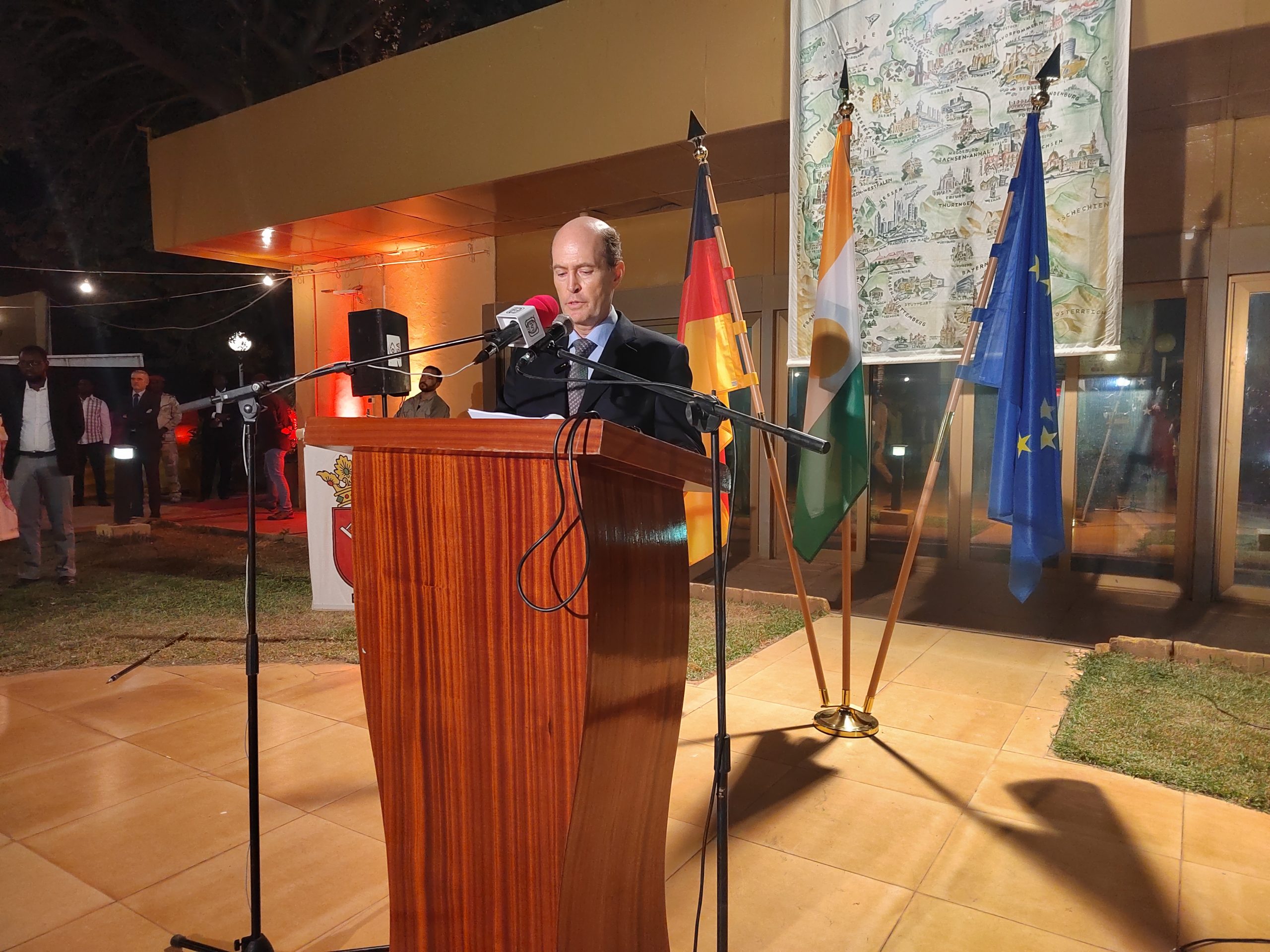 You must be logged in to rate posts.
0 Comments