The Namibian German Centre for Logistics (NGCL) hosted the handing over ceremony of five (5) scholarships for the Master of Logistics and Supply Chain. The scholarships are offered annually by the German Academic Exchange Service (DAAD) as part of the African Excellence initiative, since 2009. These scholarships are the driving force behind stimulating home-grown Namibian students and professionals to pursue logistics and transportation at master's degree level at the Namibia University of Science and Technology (NUST).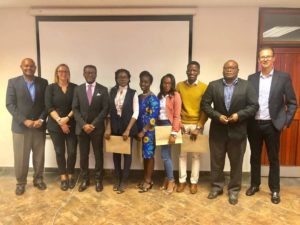 The event took place at the NUST Hotel School, on the 19th of April 2018.
Ms Barbara Liebel, the DAAD representative to Namibia delivered the keynote and emphasised the mandate of DAAD and its support through the different centres across Africa, highlighting NGCL as the only in the field of logistics.
The Vice Chancellor highlighted on the NGCL being a vital part of NUST by linking the academic and private sector to develop skills and drive research in logistics.
NGCL is an all-in-one excellence institute, combining education, research and consulting in logistics. The Centre is based on a cooperation between the NUST and Flensburg University of Applied Sciences, Germany.
You must be logged in to rate posts.
0 Comments