The East and South African Centre of Excellence for Research Methodologies and Management (CERM-ESA) awarded 10 scholarships for its new Master's Programme in Education Research at Moi University, Kenya. Of the 63 applications from Kenya, Tanzania and Uganda, 21 students were shortlisted for a personal interview on 10-11 February. The selection committee, which consisted of members of all five CERM-ESA partner universities, namely Moi University, NMMU (South Africa), UMI (Uganda), UDSM (Tanzania) and Oldenburg University (Germany), was impressed with all the interviewed candidates, of which only 10 could be selected. The successful candidates were awarded the scholarship on the 13th February 2017 by the Acting Vice Chancellor, Prof. Laban P. Ayiro and DAAD's Dr. Dorothee Weyler. The VC acknowledged the scholarship holders' diversity representing various regions within Kenya as well as its neighbouring Tanzania and Uganda. This showed not only that the unique Master's programme on education research is very attractive beyond Eldoret, but also that the selection procedure went fair and provided an opportunity for all Kenyans to be awarded with a scholarship. The Vice Chancellor in his speech thanked DAAD and wished the students all the best in their studies.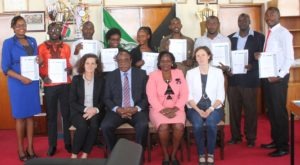 Left to right-scholarship holders (standing): Ann Wanjiku, Ekiru Simon, Mark Sirimbiri, Rose Njage, Ida Jaribu, Roba Godana, Nelson Mandela, David Lagat, Evans Mos
Left to right (seated): Dr Dorothee Weyler (DAAD), Prof. Laban Ayiro (Ag. VC- Moi University), Dr Susan Kurgat (CERM-ESA Coordinator Moi University), Malve von Mollendorff( CERM-ESA Coordinator Oldenburg University)
Note: one scholarship holder, Dorcas Ngenoh, could not be present for the award ceremony
You must be logged in to rate posts.
0 Comments