Last week was an intense week for the German Congolese Center of Microfinance. The 45 students who performed the best in the admission test were invited to an interview. Within three days the students were interviewed by the panel (Prof. Frederic Kalala, Prof. Patrick Bakengela, Silja Bellinger, Franck Mulamba) and evaluated by their performance, motivation and interpersonal skills.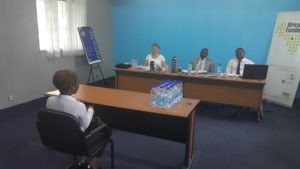 Taking the interviews and the admission tests into consideration, in total 35  students were selected. We are happy to welcome a very motivated group to the 2016/17 intake of the Master of Microfinance!
You must be logged in to rate posts.
0 Comments