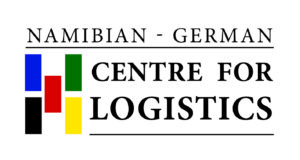 The Namibian German Centre for Logistics is proud to announce that its former Academic
Director Windhoek, Dr. Chris Savage, recently achieved his PhD in Supply Chain Management, with the title 'An investigation into the issues of developing a sustainable port-centric logistics hub in developing countries: A study of Walvis-bay, Namibia', from the University of Huddersfield, United Kingdom. NGCL is a Centre that prides itself on its academic work, research and elevating the field of Logistics in Namibia. The culmination of Dr. Savage's work and research in the field of logistics and specifically supply chain management is exactly what the NGCL was created to facilitate.
For more than four years, Dr. Savage was NGCL's Academic Director and contributed a great deal to the success of the Centre with his tireless work in research and teaching. Whilst at the same time conducting his own research and working on his PhD thesis. Despite having left his position as Academic Director, Dr Savage remains an active contributor to the NGCL's ongoing success. His continued attachment to NGCL strengthens the Centre and its academic credentials not only in Namibia but regionally as well.
His research enabled benefitted the Namibian logistics sector as intermediate findings were released locally via workshops like the Annual Transport & Logistics Workshop in Walvis Bay. As well as internationally via some 15 academic papers / journal articles. This meant that NGCL was and is correctly recognised as an Centre for Research and Higher Learning in the field of Logistics, not only here in Namibia, but internationally as well.
Logan Fransman, Director of NGCL said; "We are all very proud of Dr. Chris Savage's achievement and know that he will continue to share his knowledge and experience in the field of Logistics with us and our students. Helping our drive to continuously offer higher levels of academic knowledge in our logistics programmes at Namibia University of Science and Technology."
You must be logged in to rate posts.
0 Comments