Today, 21 December 2016, another student of the South African-German Centre for Transnational Criminal Justice, Marshet Tadesse Tessema from Ethiopia, successfully completed his PhD Project by giving his disputation at Humboldt-Universität zu Berlin. Mr Tessema is the sixth alumnus of the Centre to receive his doctoral degree. The title of his outstanding work is 'Prosecution of "Politicide" in Ethiopia: The Red Terror Trials'.
After his undergraduate studies in Ethiopia, Mr Tessema was admitted as a full DAAD scholarship holder to the LL.M.-programme 'Transnational Criminal Justice and Crime Prevention – An International and African Perspective' in 2012. After he successfully graduated with the Master's degree, Mr Tessema was given a full DAAD scholarship to pursue his PhD studies at Humboldt-Universität zu Berlin.
We are sure that the findings of Mr Tessema on the crime of politicide and the Ethiopian trials of the so-called 'Red Terror' will have significant impact on Transitional Justice developments not only in his home country, but on an international basis.
The South African-German Centre congratulates Mr Tessema on the successful achievement of his doctoral degree. We wish him all the very best for his future projects.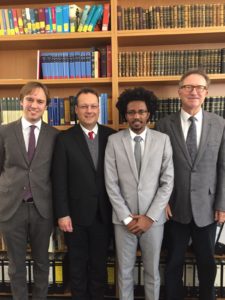 You must be logged in to rate posts.
0 Comments