By Brighten Simasiku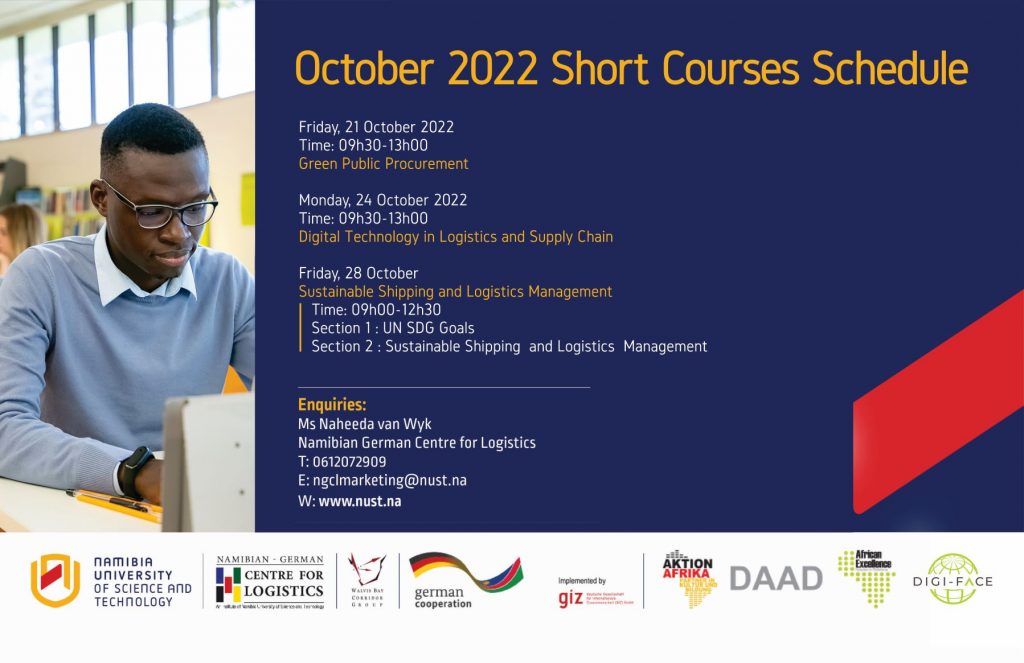 The Namibian-German Centre for Logistics (a business Centre within the Namibia University of Science and Technology) with assistance and guidance from the DIGI-FACE, participated in the DIGI-FACE Launching Activities 2022. Three online short courses were developed and presented, namely, Green Public Procurement, Sustainable Shipping and Logistics Management, and Digital Technology in Logistics and Supply Chains. The target groups were professionals in logistics and transport, maritime, mining, supply chains, procurement, university staff, and students. A total of 63 participants (in all three short courses) attended the courses online. The short courses are part of the national efforts geared towards the development of the logistics hub initiative, where Namibia is positioning itself to become a logistics hub for SADC countries. The courses received an overwhelming reception from participants and authorities in the country, the Centre intends to expand the scope of the short courses in 2023. These exciting tasks were compiled by a team of five experts, specifically Ms. Vista Gosbert, Ms. Lydia Jackie, and Ms. Dofilia Kaloia (pedagogical experts), Mr. Joseph Joseph Gandanhamo (IT support), and Mr. Brighten Simasiku (Overall administrative support). The Centre is grateful to DAAD, DIGI FACE, and other CoEs for their unwavering support over the years and hopes to collaborate further in expanding this noble initiative.
You must be logged in to rate posts.
0 Comments