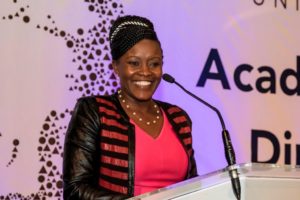 Sarah Jemutai, winner of the 'best dissertation in the Humanities' award
The evening of June 21, 2018 was a particularly special one for CERM-ESA Master's student Sarah Jemutai, her supervisors as well as for her family and friends. Sarah, who graduated cum laude, was selected as the recipient of the Nelson Mandela University Council's best Master's Degree by Dissertation in the Humanities Award, which she received during the Academic Awards Dinner held at Port Elizabeth's Feather Market Hall. The dinner is an annual event to acknowledge academic excellence, both in undergraduate and postgraduate studies across all of the faculties at Nelson Mandela University. Excellence is one of the university's six values and is believed to be central to the institution's striving for a sustainable future.
Sarah completed her Master's degree by dissertation, an academic journey which requires commitment, sustained hard work and diligence. Her dissertation is entitled 'The effect of using a six-brick Duplo block guided play approach on pre-school learners' visual perceptual abilities'. The study situates itself within the pre-existing body of knowledge around the development of children's visual and spatial abilities, which belies reading, writing and mathematics. However, through her research, Sarah identified that pre-existing studies have focused on older children who are already literate and who are being educated within a Western context. In light of this gap, the focus and dimensions of Sarah's study are particularly topical. In focusing on the use of a six brick Duplo block intervention in one South African and one Kenyan school, Sarah argues that children's development is accelerated through teachers' facilitation of guided play using the six brick Duplo block approach. In turn, these findings have implications for curriculum developers, early childhood advisors and teachers when designing instructional materials that promote the development of reading, writing and numeracy skills in pre-literate children.
Not only does her study attest to the ever-evolving ways in which we conceive of educational methodologies and innovation, but her outstanding academic achievement demonstrates the potential of committed hard work, which sets an inspiring example for CERM-ESA students to follow.
You must be logged in to rate posts.
0 Comments