Education is often said to open doors that were closed before. Dreaming of a career and making a difference I, Dortea Nehemia, became interested in logistics and started dreaming of faraway places. Goods being transported between exotic locations, not getting lost and spreading joy when they arrived is what motivated me to study logistics. At the same time I became very interested in trying to get an international internships within the field of Logistics. Luckily my professor, Professor Eugene Madejski told me about an internship opportunity in Mauritius facilitated through the NGCL (Namibian –German Centre for Logistics). All of my hard work paid eventually off, my high scores and consistently good marks meant that I qualified for the internship on the beautiful island nation of Mauritius.
Ireland Blyth Limited offered the internship and it was now a question of making the necessary arrangements. At first, I struggled to find funding for my journey. But then I was offered an even more exciting opportunity though the NGCL which was also a solution for my funding problem.
Professor Eugene said that as the Annual International Chartered Institute of Logistics & Transport conference would take place in Mauritius and NGCL would send me as a delegate there, thereby being able to provide funding for the plane ticket. The opportunity was amazing! Just imagine me, a young humble student from the North representing Namibia at an international conference! I feel truly blessed to have chosen this field and be surrounded by positive people willing to assist and who have so much faith in me. The adventure was about to get even better and bigger.
Having never flown before, this adventure started properly by just getting to the airport. With the tickets in hand, the magnitude of what I was doing sunk in. Luckily as a newbee, three employees from Bank of Namibia helped me at Hosea Kutako Airport and as a result everything went smoothly. I didn't even feel the fear a lot of people have of flying, however the nervousness did set in a little about the sheer task
and the unknown I was flying into. Especially as I didn't want to disappoint anyone and I really wanted to do and be the best in the field of logistics.
My new landlord was waiting for me at the airport, and we drove to my new home where two European  students on internship welcomed me with open arms. The next day, I went to my new working place, Ireland Blyth Limited (IBL) a group of companies, kind of like Ohlthaver & List, the difference is that most of the companies that form part of IBL are located at one Business Park.  There I met the manager and some other employees, they were very kind and welcoming. Missing my bus on the first day of work caused me some tears, but eventually I got there and pulled myself together, ready to learn and contribute.
I was placed at Logidis, a leader in the logistics sector. They provide top quality warehousing solutions and other services to its valued customers.  At the beginning I felt insecure when the manager told me that I have my own project. With time I gained confidence and reminded myself that life is a process of learning.  Always having been someone not afraid of a challenge, I tackled the task and it was not difficult as I imagined.  I had to do an ABC analysis on frequency and quantity; the aim was to see whether the volume of the products in picking (in the warehouse) was appropriate, and to reduce the number of replenishments done based on the two ABC analysis.  Commencing with the project, it was great to see in 'real life' what I had learned and studied in theory. The size of the warehouse made me exhausted, but I realised quickly that the practical implementation of the theory was the best part of my job and I saw a fun and exciting future for myself in the logistics industry. I got to interview the pickers and other staff in the warehouse, seeing the movement of products and forklifts was great.  The internship taught me a lot,  my thinking capacity, knowledge on certain topics enhanced, I started to view things holistically and most importantly I believed and began to appreciate life as a process of learning.
The island is very green and blue, there are so many farm fields, filled with exotic fruits and sugar cane as far as the eye can see.  The sea is amazing and blue, a true paradise  It is amazing how busy the roads are, cars, buses, motorbikes and bicycles all making use of the narrow road, however I didn't see any accidents. We in Namibia could learn something from that.  Due to the multicultural diversity, the Island boasts a number of spoken languages, Creole and French being the main spoken languages.  Most of the people I came across didn't know where Namibia is located. So, I was able to tell them about beautiful Namibia, which filled me with pride. I never felt like a stranger as the people are kind, friendly and caring.  I was truly blessed and now that I am back in Namibia I still think often of my first opportunity to spread my wings and work in the logistics sector. Take my word for it, you haven't seen the last of me yet and I will take the industry by storm and seek out more work experience around the world!
The internship expanded my horizons a great deal and no longer do I feel like I am just a girl from the village in the North, I am now part of the global logistics industry and it is all because of my studies in logistics. As well as having a professor that believed in me and NGCL that financially facilitated the opportunity for me to go the beautiful island of Mauritius.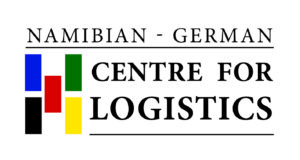 You must be logged in to rate posts.
0 Comments