Chifundo Patience Chilera, MADM graduate and South African-German Centre for Development Research (SA-GER CDR) scholarship holder from Malawi from the 2012-2014 intake, has been selected as a fellow of one of Africa's most influential young women leadership initiatives. She shares her experience of being a fellow of such a distinguished group.
In May 2015, the Moremi Initiative for Women Leadership In Africa named me as one of 26 Most Outstanding Emerging Young Women Leaders in Africa and by virtue, I was awarded the 2015 Moremi Initiative for Leadership Empowerment And Development (MILEAD) Fellowship to attend the Leadership Institute hosted at the University of Ghana.
Leadership Institute event
The Leadership Institute was an event that lasted three weeks. Every day, we were visited by distinguished speakers. We got to hear and learn from accomplished entrepreneurs, ranging from software developers to management consultants to social entrepreneurs; and from distinguished professors, leaders in the third sector, the corporate sector, and government officials. We also met with some of Ghana's finest young professionals and even the boxing legend, Azumah Nelson, who is considered Africa's greatest boxers of all time, came to spend some time with us. We had a crash course on what seemed to be everything: feminist theories, African history, photography, writing, organisational development, politics, personal motivation, public speaking, business management, civic leadership, environment, public health, fundraising, even Pilates. There were field visits to the World Bank Office and the Africa Women Development Fund headquarters in Ghana. There were also excursions to the historical Cape Coast and we got to tour the Kakum National Park, which is covered in the tropical rainforest and has a canopy walkway that is 350 meters long- I dare you to try this.
The Community of Fellows
Despite the many accomplished speakers and mentors we had, the true richness of being a MILEAD Fellow lies in being part of the community of Fellows. I have learned so much more from the 25 other Fellows I spent the time with in Ghana and continue to benefit from belonging to the wider community of about 200 Fellows from 7 cohorts, representing 44 countries.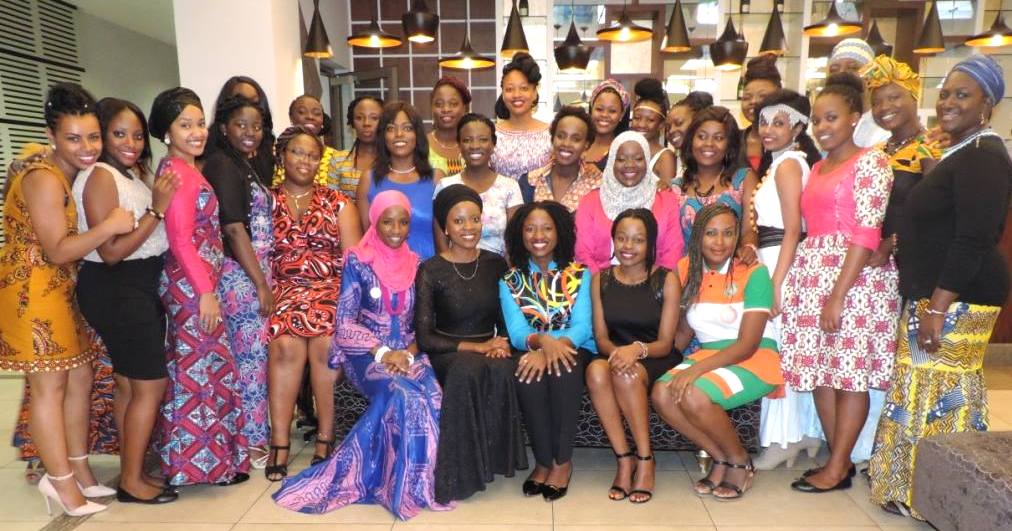 MILEAD class of 2015 (photo: private).
My peers in the class of 2015 were truly outstanding. Some were founders of initiatives that are making strides in leading community development and promoting the lives of women and girls. For example, one of the Fellows is an award winning young woman, who was born HIV positive and now runs an organisation called The Innocent League Uganda, raising awareness about the disease and provides counselling to young people. Another is a 13-time award-winning philanthropist who runs her own charity that sponsors the education of about 500 children from disadvantaged backgrounds in Zambia. Another is a local government councillor who also runs a non-profit organization supporting women and girls in her ward in Ghana. There was another woman from Malawi, who now runs a centre that provides physiotherapy and social support to women with children that suffer from cerebral palsy. Others were outstanding scholars from leading universities across the world, pursuing undergraduate, graduate, and even doctorate studies in fields such as architecture, actuarial sciences, law, and medicine, and young professionals in the corporate sector, government and non-profit sectors.
Each one of us was at a different phase of our personal progress. While some Fellows were just starting out, some had already established their organisations from as young as 16 years of age and had made strides in their careers. And while some of us were focused on policy at the international or national levels, the work of some Fellows was community-based. We came from all over Africa and the diaspora. There were not enough dinner time conversations to allow us to tap into the depths of the wealth of experiences and passion and ambition that made the Class of 2015. I was literally overwhelmed every day, basking in such greatness.
Representing group at UN Dialogue
During my time in Ghana, I also had the opportunity to represent my year group of the UN Women Africa Rising Gender Equality Dialogue on Ending Child Marriage through Young Women's Leadership & Activism. It was a privilege to be among the contributors to the dialogue, including Nyaradzyi Gumbonzvanda (African Union Goodwill Ambassador for Campaign to End Child Marriage), Nana Oye Lithur (Minister of Women, Children & Social Protection of Ghana), Diana Ofwona (UN Women West and Central Africa Regional Director), and Mawuli Dake (African Human Rights Advocate and also the co-founder of the Moremi Initiative).
Not like any other leadership programme
Taken at face-value, the MILEAD Fellowship programme may appear to be just like any other leadership programme for African Women. It is not.
The MILEAD Fellowship is more than the three weeks spent at the Leadership Institute. In the year following the award, Fellows design and are expected to deliver a community change project, branded as MiChange Projects. Some projects have been about introducing innovative ways to deliver the Fellow's already existing projects. Other projects have been new establishments in response to the needs in the Fellow's community. There have been over one hundred new MiChange projects that have been initiated, most of which have evolved and are still ongoing projects. In 2013, two Michange projects were listed for the World Youth Summit Awards, and one of which won the award. My MiChange project is called MiStory. My goal is to document and profile the stories and projects of MILEAD Fellows through a series of blogs and social media, with the ain of creating a peer-to-peer sharing hub for knowledge and experience of young people leading change. Ultimately, I hope to compile a coffee table book that will showcase the cadre of youthful women leadership that Africa has – a selection of whom have been mobilised and mentored through the MILEAD Fellowship.
On-going commitment and new opportunities
The MILEAD Fellowship is not a one-off moment that passes with time. There is seemingly no end to being a MILEAD Fellow, with a constant stream of open opportunities. Recently, through the Moremi Initiative, I was invited to speak at the United Nations 60th Session of the Commission for the Status of Women (CSW) as one of the MILEAD Fellows, at the UN Headquarters in New York. CSW, a functional commission of the Economic and Social Council, is the principal global intergovernmental body exclusively dedicated to the promotion of gender equality and the empowerment of women. I spoke at the session: "Enhancing Young Women's Voices for Women's Empowerment and Sustainable Development: A Multi-generational Dialogue with Emerging African Women Leaders", which was co-hosted by the Government of Ghana, and the Moremi Initiative to an audience of over 300 people. I, like the other Fellows on the panel, engaged the audience in a discussion about strategies for promoting women's right and equality, led by young women based on our experiences. We were also exclusively invited to be part of the Africa Women Development Fund Gala, where we met and were mentored by a group of African Women that have financed women-led initiatives in Africa by providing over 20 million USD in grants over the last 10 years.
Being a MILEAD Fellow opens many doors. There are Fellows who have been part of the World Economic Forum's Global Shapers Community, and some make it to spaces such as UN Advisory Groups.
There is not a single thing that sums up the making of a leader; but for me, the MILEAD Fellowship has been one of the most impactful opportunities ever granted me, a gift that keeps on giving. I belong to a community of young women who understand that the power to lead is the commitment to serve. And serve we do.
by Chifundo Patience Chilera
You must be logged in to rate posts.
0 Comments